Tuesday, 15 July 2008
I am now leaving to go see Harvey Milk at the Underworld! BYE!
Posted by

Stephen Vs Cosmos
at 17:02
No comments:
Links to this post


Sunday, 13 July 2008
From Stolen exhibition the other week, by Rachael I think? Spot my shit!
I think there are a couple more photos of me standing and drunkenly pointing at my work, from my sister Diane, which I might put up once she uploads them and I can gauge how embarrassing they are on a scale of 1 to 11. They are most likely a 12 on this scale, which means you will never see them.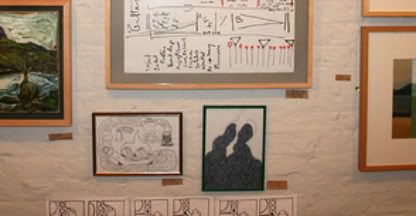 Posted by

Stephen Vs Cosmos
at 16:19
No comments:
Links to this post