Friday, 10 October 2008
I was standing at the urinal at Bardens boudoir the other week, wondering, as I was weeing, what I would do for this poster. Then Luke from Upset the Rhythm/Hands on Heads walks in and puts his head in the sink and starts gargling water. So I said "Hey Luke, hows it going? What are you doing?" and he said "Hey Steve, cool" and then told me he had just had his wisdom teeth out and that food kept going in the holes!!! And then I told him, "THATS THE POSTER!!!" And so this is the poster. This is Luke. Its an ok poster. Its gonna be a brilliant show!
http://www.myspace.com/thecreepingnobodies
http://www.therebel.co.uk
http://www.myspace.com/handsonheads
http://www.upsettherhythm.co.uk
Posted by

Stephen Vs Cosmos
at 16:21
1 comment:
Links to this post


Tuesday, 7 October 2008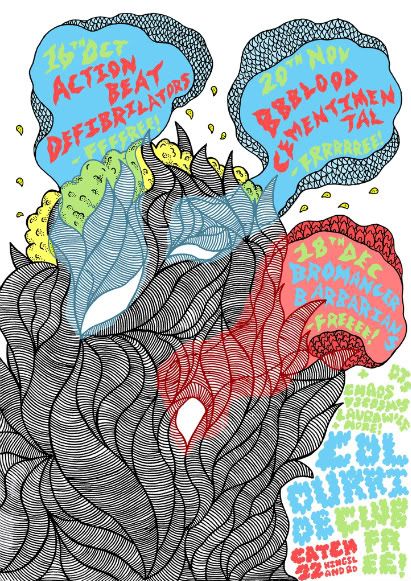 http://www.myspace.com/powreviews
Right, going to play a Bromancer show with Charles Hayward now!! Bye!!
Posted by

Stephen Vs Cosmos
at 16:31
No comments:
Links to this post


BOOK!

I have had some posters included in a book just out, 'FLY BY NIGHT - THE NEW ART OF THE CLUB FLYER' published by Thames and Hudson. Its pretty nice, lots of good stuff which makes my stuff look bad!! But I have 4 or 5 posters in there, mostly old ones from black and white times, but I'm pleased.

£12.99 from all Waterstones, Foyles, as well as Amazon and futuristic places like that, but you should order it from your local bookshop and give it to someone who cares as a present!

Night night!
Posted by

Stephen Vs Cosmos
at 03:02
No comments:
Links to this post