Um..............hello?
DO AN INTRO!
Uhhhhh.........so......... here I am, here, on my new 'Blog.' Not that there was an old 'Blog.' This is the first. I don't really know what I am doing here, but its easier then making a website, something I can't do, or afford to pay someone to do, and people seem to think that it is more respectable then a myspace page or something...........and of course it is much more classy then a facebook group, both of which I have and am deeply ashamed of. I feel quite ashamed to be on here writing this also though so I guess the Internet is just shameful wherever you go.
CHAOS VS COSMOS is the name I do all my art under and also the name I use to promote shows (as in gigs) in London. I have no idea why I wrote this backward as the title of this place, it seemed like a great idea, I have realized that it was not a great idea, or even a good idea. My real name is Steve/StePHen vs Cosmos, depending on who you are. Its double barrel, I have no middle name.
I will be using this space here mainly to stick up my artwork, illustration, drawings, stuff. I will try my best not to write about my incredible hilarious cooool life and such things on here, I will try to keep it pro, although I might sometimes write about myself if I want, its my fucking blog! My friend Will told me recently.........fuck, now you know I have a friend called Will, it is already becoming one of those things. Well, he told me that I just do not censor myself enough, I say whatever comes into my head. This is NOT FUCKING TRUE! FUCK YOU WILL!
Ok, well, here is a bunch of stuff I have done recently and just before that. This will bring you up to speeed, there is much more old stuff on my myspace page, go there to look at shows I have coming up, but don't bother looking at the old stuff, its not that great. www.myspace.com/chaosVcosmos
FOR TWO DAYS IN STEREO FEST - GLASGOW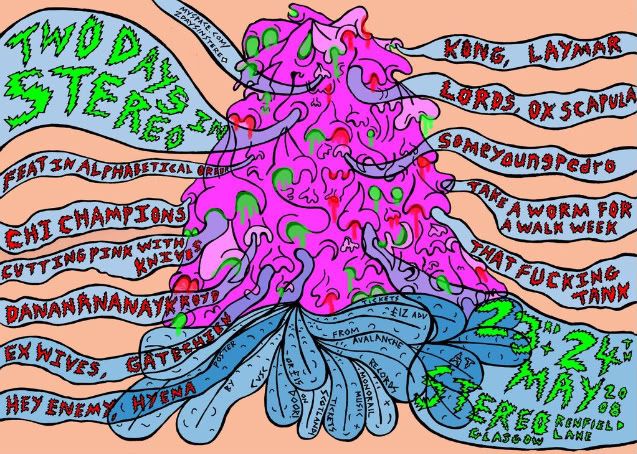 FOR AIDS WOLF TOUR OF ISRAEL
FOR PLEASE PLEASE YOU IN YORK
FOR KOOK! IN BRISTOL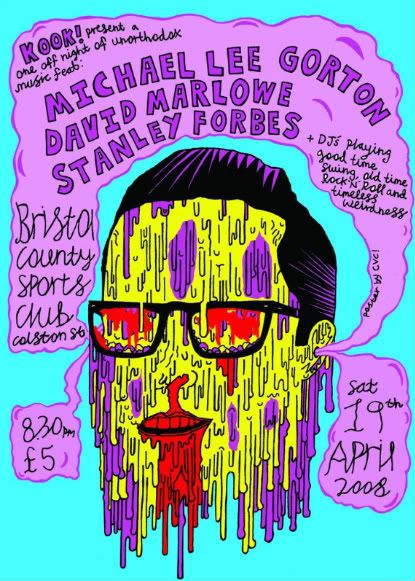 FOR INVASION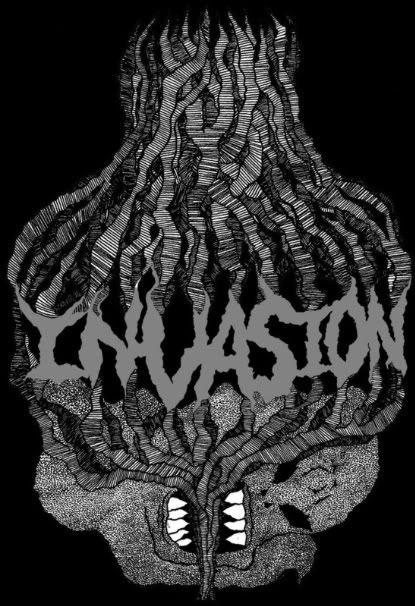 FOR CRUSHING DEATH AND GRIEF IN CAMBRIDGE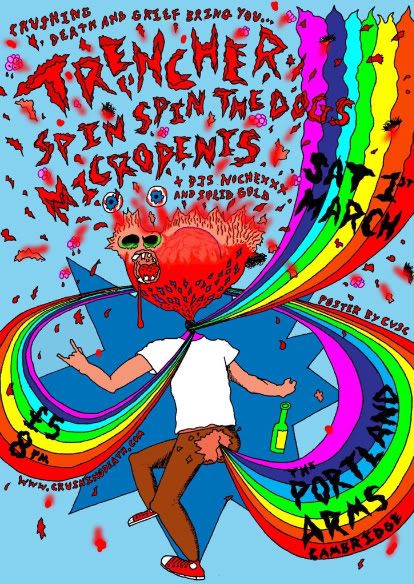 A COLLABORATION WITH SHAKEEB - JOINT POSTER FOR A JOINT CHAOS VS COSMOS/JE NE SAY WOT SHOW! I DID THE LEFT SIDE, HE DID THE RIGHT.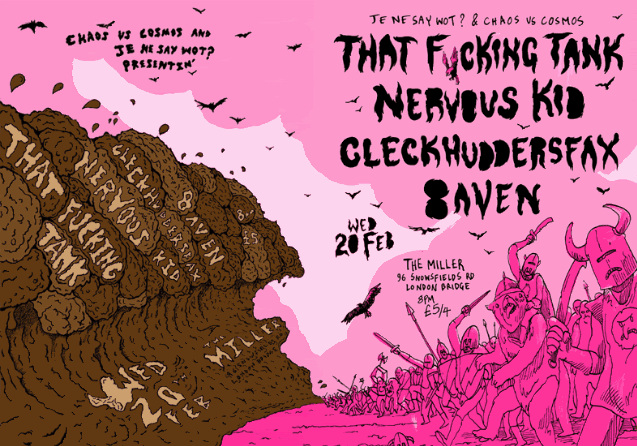 FOR BROMANCER CASSETTE (MY BAND)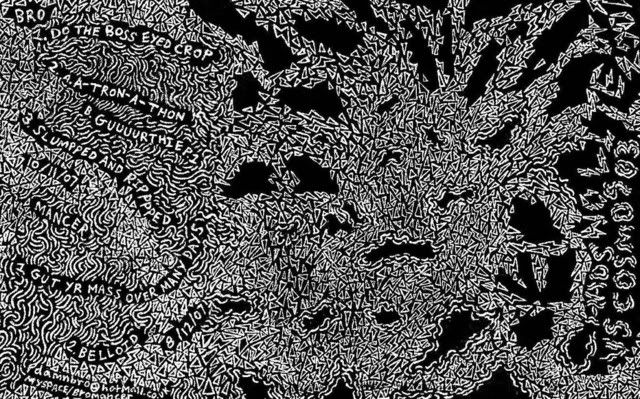 BROMANCER POSTER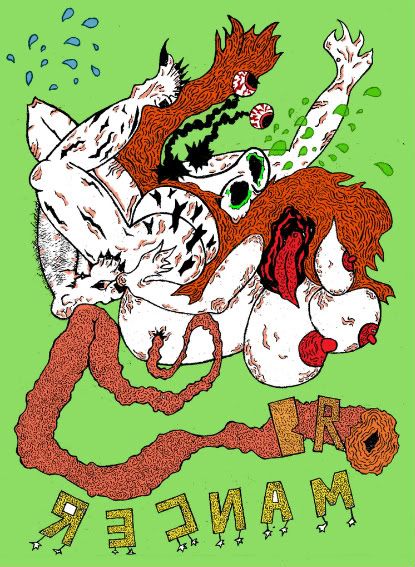 FOR SHIT AND SHINE
CHAOS VS COSMOS SHOW - PRE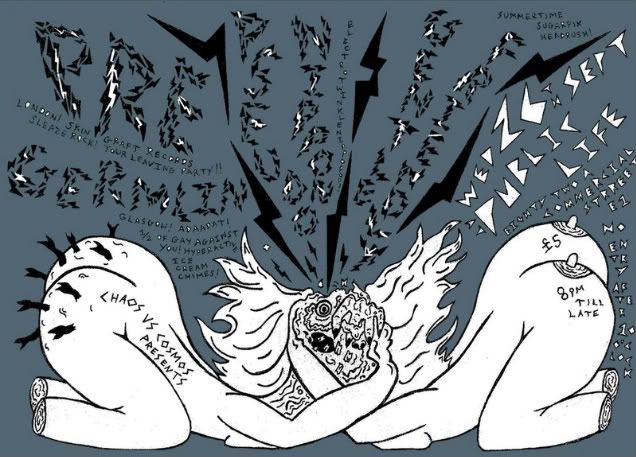 CHAOS VS COSMOS SHOW - WHITE MICE
CHAOS VS COSMOS SHOW - STARS OF THE LID
CHAOS VS COSMOS SHOW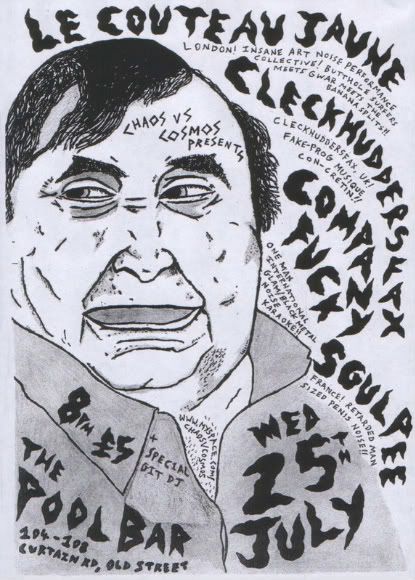 HIRE ME TO DO STUFF FOR YOU! WHY NOT, YOU MAY AS WELL.
CONTACT: chaos_vs_cosmos@hotmail.co.uk
or www.myspace.com/chaosVcosmos
In keeping with the embarrassing nature of doing a blog, here is an incredibly embarrassing (and inaccurate) self portrait I did once in Jan of this year. The idea of doing a self portrait makes me want to kill myself even more then the idea of doing a blog!
It is from a photo taken by Cesca, I am adding that bit of credit in here because she phoned and gave out at me today because I didn't credit her, so, there you go!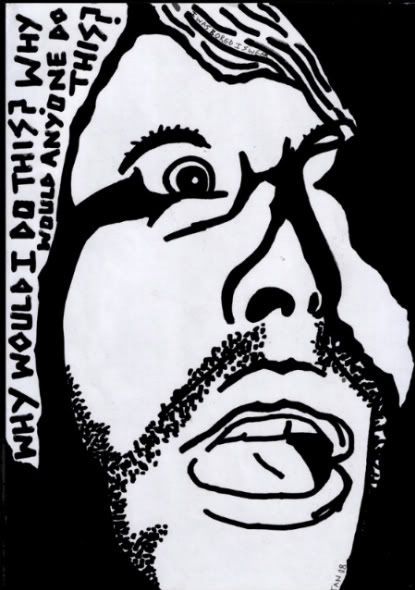 Right! Thats quite a bit of shame expressed and out of the system so there will be not so much of that in the future!
How do you end a post on here?
UNTIL NEXT TIME, MINIONS.